Bite resistant arm guards have been created to offer comfortable protection from human bites.
Many teaching professionals working within schools specialised in severe learning disabilities, challenging behaviour, special needs or autism, and care workers within mental health care and psychiatric hospitals, as well as social worker have been bitten in the past.
Human bites can be relatively frequent in their work environment, and hence many seek protection from such injuries.
According to The American Journal of Forensic Medicine and Pathology, bite injuries represent 1% of all emergency department admissions in the United States. 1% of all emergency department admissions is overall an incredibly high number.
Arm Protection From Biting
I believe that BitePRO® Bite Resistant Arm Guards (click here: www.bite-pro.com) offer comfortable, user-friendly and non-obtrusive arm protection from biting.
They can help protect above professionals from physical injury, risk of infection, soft tissue damage and subsequent psychological distress.
You might be aware of the fact that bite injuries can indeed become infected and the injured individual could subsequently be contaminated with pathogens. Transmissions of potentially life-threatening viruses, such as Hepatitis B, Hepatitis C or HIV are also a part of reality.
Looking at the potential and realistic consequences, we recommend one looks at all available options in order to help protect those who care for others.
BitePRO® Bite Resistant Arm Guards have proven to effectively assist in protecting against these risks and thus the potential and realistic consequences of a bite from a human.
They are available in different styles, and our Senior Consultant Kayleigh Davis and her team would be more than happy to guide you and ensure you find the best possible solution for your specific job role and responsibility.
Some of our arm guards have been designed to be worn 'covertly', underneath your normal garment, especially if you wish to wear such garment during your entire day at work.
Other arm guard models have been designed to be put on quickly when, or if a given situation requires you to seek additional protection, usually before you engage with a patient or pupil. They can then be kept in a desk draw, hang up on the wall, or be individually issued to all staff. They can be taken off within seconds when they are no longer required.
The following graphic gives you a quick overall view of all bite resistant arm guard models available.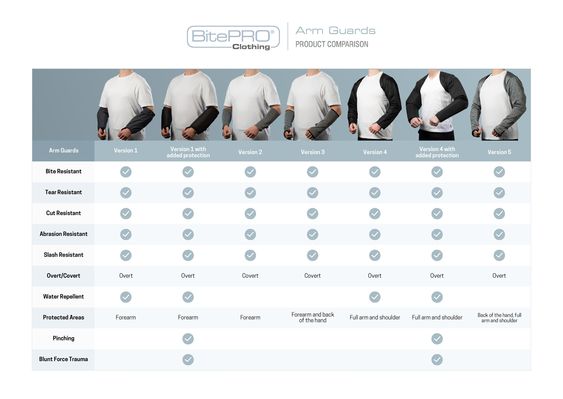 Please visit our website and contact us. It would be our pleasure to hear from you.