Although most of the following data is focussing on the US, the information itself is nevertheless of great value to the entire healthcare community... globally.
In a memo released on Monday 28 November 2022, the Department of Health and Human Services Centers for Medicare and Medicaid Services (CMS) is warning hospitals that they must protect their employees better from violence that is increasingly happening at healthcare facilities.
Data compiled by the Cleveland Clinic in 2021 highlighted that workplace violence can indeed arise in any organisation, any industry and in any country. However, it is about four times more prevalent in healthcare than it is in other public facing sectors.
In addition, a 2020 survey conducted by the US based National Nurses United showed that, of 15,000 registered nurses nationwide who responded, 20% reported they were facing increased workplace violence.
A 2021 American Federation of Labor and Congress of Industrial Organizations report on worker safety also reported alarming figures when concluding that workplace violence in healthcare had almost doubled since 2010.
A very recent analysis of The Press Ganey's National Database of Nursing Quality Indicators (NDNQI) stated that on average two nurses were assaulted every single hour. We are talking about 57 assaults per day, or 1,739 per month, or 20,868 assaults per year.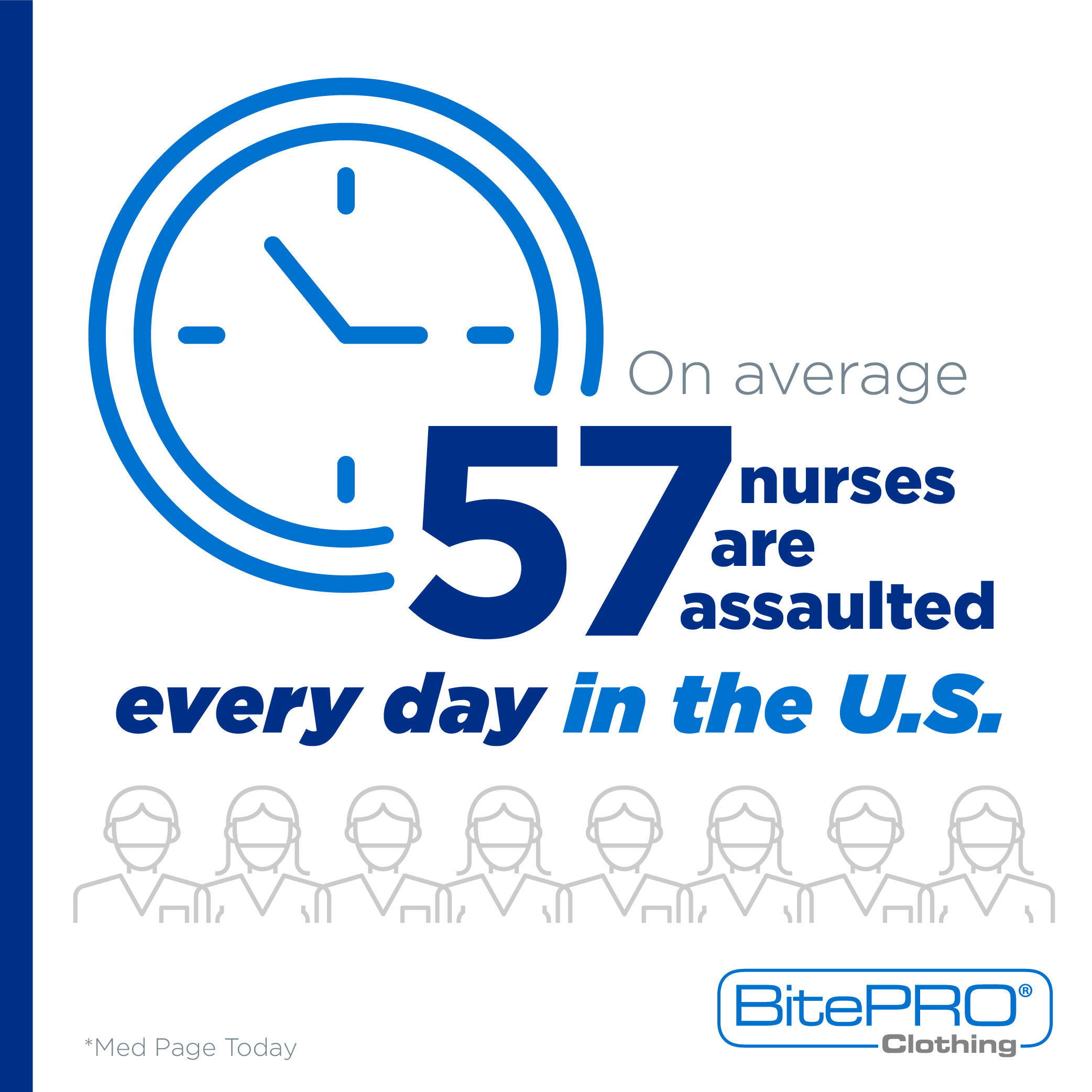 It is fair to say that psychiatric units and emergency departments in hospitals see the by far highest number of assaults, of which some result in severe injuries.
Most of these individuals committing the assaults are patients. However, while patients represent the highest number of 'acts of violence', we are also fully aware of the fact that family members, co-workers, visitors, and indeed intruders perpetrate violence too.
What can Healthcare Organisations do to improve safety?
According to a very recent edition of the Safety+Health Magazine, The Emergency Nurses Association and the American Organization for Nursing Leadership have now updated their "Guiding Principles" on Mitigating Violence in the Workplace with the most current advice. I however can think of additional action to be taken to further mitigate the risk of violence against healthcare professionals.
Create a culture of non-violence

It must make crystal clear to all parties involved that violence against healthcare professionals is neither expected nor accepted. All threats or incidents of violence are a priority and must be reported and recorded. Nurses must feel free and safe reporting incidents that happen to them.

Implement an easy to complete, yet informative reporting systems. It is a matter of fact that reports that require hours to complete are most likely the ones not being completed at all. Prioritise. Figure out what it is you really need/want to know. What would really help you to prevent such incident to occur again? What information is vital to improve the safety of others moving forward?
Develop a comprehensive workplace violence prevention plan. Legislate formal policies and procedures for risk identification, prevention, and control.
Create standard response plans, providing appropriate mechanisms for minimising any risk, loss and damage resulting from any incident.
Conduct 'Post Incident Reviews'. They bring professionals together to discuss the details of any incident, analysing why it happened, its impact, what actions were taken to mitigate it and resolve it, and what should be done to prevent it from happening again.
Invest in training and education programs that teach warning signs, de-escalation techniques, emergency management and clear/precise communication and teamwork.
Improve the use of PPE such as bite and scratch resistant clothing, as it is a highly effective way of reducing the risk of workplace violence related injuries, in case a plan or any preventative action fail.
I understand the cost of covering workplace violence preventing measures, whether in the form of physical security, providing training for staff or personal protective equipment (PPE), is a big expense. In fact, the American Hospital Association released an interesting report back in 2017, titled 'Cost of Community Violence to Hospitals and Health Systems'. The report stated that approx. 0.5% of all expenses of hospitals investigated were dedicated to security costs. That might not sound like a lot but in fact is a staggering figure. That's Billions, in most currency i.e. USD, EUR or GBP, and if invested wisely can make a significant difference the safety of healthcare professionals.
The more time I spent investigating workplace violence in healthcare facilities around the world, the more it become paramount to me that it is a subject that is being taking very seriously in recent months and maybe even years. A lot of progress is being made. Genuinely important meetings are being conducted, with global experts brainstorming, exchanging knowledge and experiences, offering excellent guidance, often based on many years of operational frontline experience. Of course, certain countries, facilities, associations (i.e. IAHSS and NAHS), and healthcare security experts are leading the way, and Governments and we as individuals should really listen to their voices a bit more sometimes.
In the US the number of hospitals with workplace-violence prevention programs increased between 2016 and 2018 – from 47.1% in 2016 to 53% in 2017 and 55.5% in 2018, according to the '2020 Environmental Scan' report. If nothing else, it is yet another step in the right direction.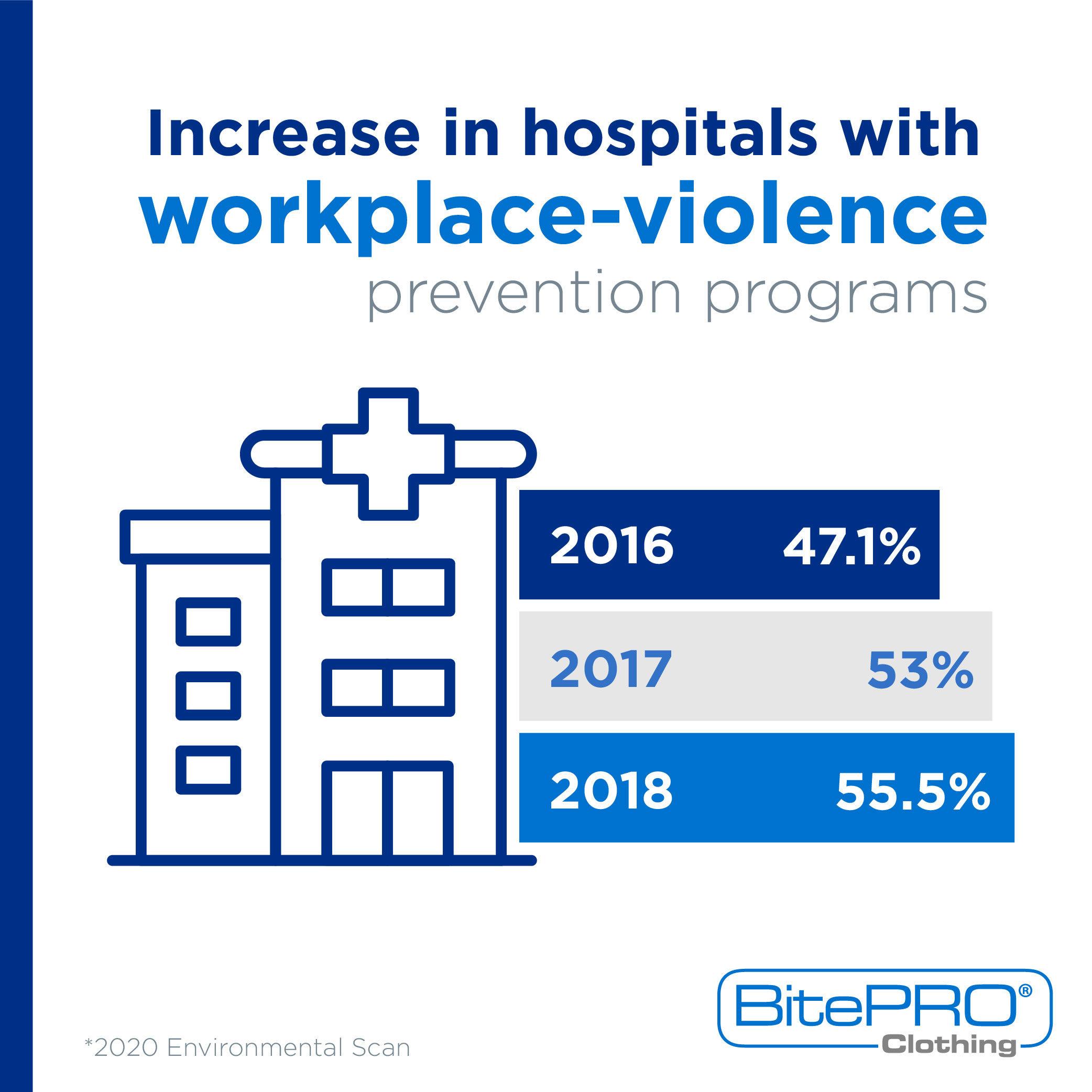 "Nurses and any other healthcare professionals take an oath to protect and preserve life, and many put their own health and safety at risk to help a patient"
said Colin Mackinnon, Technical Director at PPSS Group , a man with 26 years of operational frontline experience in the Police (Counter Terror, Surveillance, Covert Ops and Firearms Unit). He added:
"Violence in any form whatsoever should under no circumstances be tolerated or considered 'part of the job'".
About the Author
Robert Kaiser is the Founder and CEO of BitePRO®, the world's first specialised brand of protective clothing, offering dependable scratch and bite protection for healthcare workers, education professionals, and others working with individuals displaying challenging behaviour. Robert is a widely respected expert in workplace violence and violence prevention. His written work has been published in several international industry leading publications.