There is no denying that service user's safety and well-being should lie at the heart of care. But when caring for vulnerable individuals with challenging behaviour such as biting, pinching, grabbing or scratching, many providers overlook a key responsibility: the duty to protect their own staff with appropriate bite resistant arm guards.
Joanne Caffrey about Bite Resistant Arm Guards
Expert Witness and Specialist Training Provider Joanne Caffrey has over 30 years' experience advising professionals in custody settings, education, care, and mental health on managing challenging behaviours. In her latest article, "Dealing with service users who bite, scratch or spit. Foreseeable risk.", the message is clear: staff do not have to accept that it's their job to be bitten or scratched.
As an Expert Witness, Joanne is engaged on two-three new legal cases per month where either staff or service users are injured, sometimes fatally, as a result of failures to manage foreseeable risk with complex and challenging behaviours where appropriate bite resistant arm guards were not made available to staff. She identifies several points for providers to consider when identifying a need for protection against human bites and making a risk assessment.
- Not all de-escalation and restraint training are the same. It needs to consider the individual demographics of both service user and members of staff, including gender, age and underlying health conditions. Detailed risk assessments are needed to establish the precise levels of risk to individual members of staff and service users in cases of challenging behaviour.
- Staff dealing with challenging behaviour must be protected under both the Health and Safety at Work Act and s safeguarding duties to the client. This includes considering personal protective equipment (PPE). If the risk assessment includes past incidents and tendencies for biting, pinching, grabbing or scratching, then the employer must supply appropriate bite resistant arm guards.
Additional training is required in addition to any general training and long-term management of incidents. A one-size fits all approach is often inappropriate and fails to consider complex and unique needs.
Staff members being bitten or scratched have an increased risk of infection, sepsis, and mental health anxiety disorders, as has been seen with high profile cases such as Mental Health Nurse Jess Anderson, who developed PTSD after being bitten by a patient and was not wearing any bite resistant arm guards:
- A skin break increases the risk of infection and makes it necessary to be sure tetanus shots are up-to-date.
- A skin break is often obvious but can be tough to tell in some cases.
- Anything that looks like the top layer of skin has come off should be considered a skin break.
- Wound infection occurs in 9-50% of human bites.
- Risk of severe infection is particularly high in bite injuries.
- The average human bite pressure is in the range of 2840 to 4270 psi.
- The human bite forces range from 55 lbs to 280 lbs... averaging 162 lbs
Our arm guards are available in a number of designs, styles and sizes. In order to help you chose the most suitable model we have created a simple 'Guide to BitePRO® Arm Guards':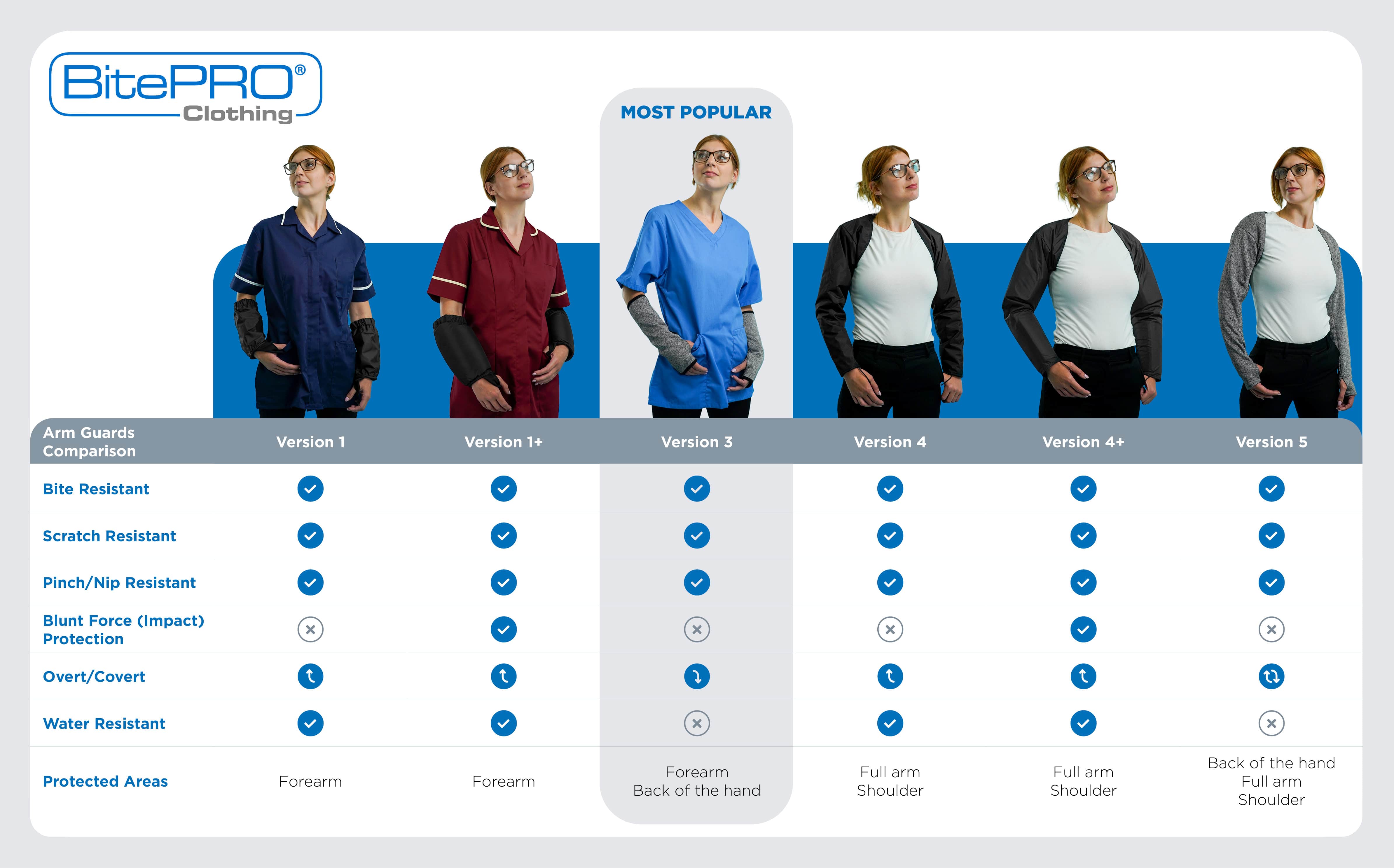 Unfortunately, many employers are still not aware of the availability of bite resistant arm guards for use as PPE. Joanne recommends BitePRO® Bite Resistant Clothing to clients to complement the wider holistic approach to managing challenging and complex behaviour. Each garment is made with our specialist BitePRO® fabric, offering BS EN 388:2003 blade cut resistance level 5 and extremely high puncture resistance to human teeth which prevents skin lacerations and is safe for both staff and service users.
ll BitePRO® Bite Resistant Arm Guards provide excellent cut and bite resistance and they're available in a range of styles and colours. Specially designed for professionals working within mental health care, special education needs and anyone working with people affected by autism.
BitePRO® Bite Resistant Arm Guards are available in wide range for different situations. The BitePRO® Grab Bag can be placed in an office of any mental health care facility, special educational needs school or care home. Staff can quickly choose from a range of bite resistant arm guards based on their requirements. Users can choose an appropriate garment to deal with a particular incident or patient. A wide range of garment sizes is available, and it has proven to be cost-effective for health care facilities with a frequent turnaround of operational staff.
"The BitePRO® bite resistant arm guards we purchased from you has really assisted the staff in dealing with a young client that exhibits extremely challenging behaviour. Some of the behaviour involves very serious self-biting and biting staff when then assist him in his everyday needs. The BitePRO® bite resistant arm guards have protected the staff and the client from serious injury even though the client has bitten himself and the staff when they are wearing the clothing. Our staff wear the BitePRO bite resistant arm guards throughout their shift and feel more confident when working with the client knowing that they have 'protection' at all times should the client become aggressive towards them. The amount of self-injurious behaviour (biting) being exhibited by the client has lessened since he is wearing the bite resistant arm guards as he does not get the sensory stimulation by biting himself". Stephan Van Vlijmen - Nulsen Disability Services, Australia
Ultimately, Joanne comments, "an issue to consider is the price of a civil claim against your company by a staff member who is harmed when the risk was foreseeable, and a range of reasonable control measures were available. Bite resistant clothing is PPE and just one part of your management plan to keep staff and clients safe."