TESTIMONIALS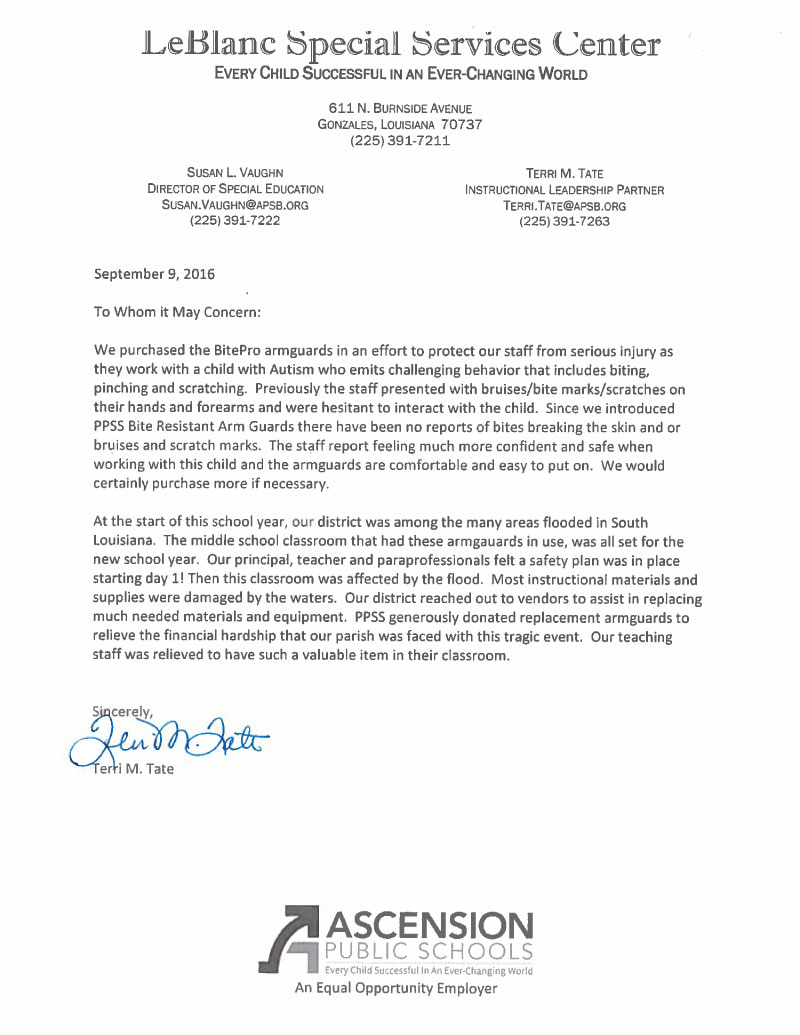 "[…] for 3 1/2 years we were getting injured at least twice a week and were looking at other placement for this student. Now, I feel confident that we can complete his education process and assist family in continuing behaviour management safely as well.
As for the jackets, I am ASTOUNDINGLY impressed. On a scale from 1 to 5, this product receives a 10!!! My student grabbed the arms, tried to pull at my clothing as he has in the past and he was not and did not get any sensory feedback that he was accustomed to. In this respect, I was able to maintain my composure, my ability to protect myself and my staff as well as other students in the classroom in a manner to which I wasn't able to in my prior 3 years of having this same student.
This same student on a different day, grabbed at my face and neck area, I had the jacket zipped all the way up, no scratches or injuries and when he did bite at the zipper he did not bite through the material as he has many times in the past with common scrubs or work clothes. He also did not like the feel of the material, so I think that played a role in his quick release of my attire. Not to mention I was able to remain fully clothed for the day.
The arm guards have also assisted in the confidence and safety of my aides who deal with some other students who are not so aggressive but can be. Your products delivered every aspect as they advertised and my team and I are safer for them. Thank you for such a great product not only are they protective but stylish as well so as to not draw attention to the students we are working with in our High School."
Sherria L. Carel, Severe-Profound Educator
Bridge Creek Public Schools, Bridge Creek
"I have to say we have been very impressed with the help from all persons contacted at PPSS Group... As you are probably aware we are a special needs school, which deals with very challenging behaviour, that includes tearing and biting of garments and bedding; finding your company was a godsend to say the least. We have used your t-shirts and sample of material made into pillow covers for some of our children and found they were great for the prevention of holes being made in them."
P. Blower
The Loddon School, UK
"The BitePRO protective clothing we purchased from you has really assisted the staff in dealing with a young client that exhibits extremely challenging behaviour. Some of the behaviour involves very serious self-biting and biting staff when then assist him in his everyday needs. The BitePRO clothing (both pants and tops) have protected the staff and the client from serious injury even though the client has bitten himself and the staff when they are wearing the clothing. Our staff wear the BitePRO tops throughout their shift and feel more confident when working with the client knowing that they have 'protection' at all times should the client become aggressive towards them. The amount of self-injurious behaviour (biting) being exhibited by the client has lessened since he is wearing the protective clothing as he does not get the sensory stimulation by biting himself."
Stephan Van Vlijmen
Nulsen Disability Services, Australia
"We are having good success with the bite guards... The staff are finding the guards are protecting them well from pinches and scratches."
L. M.
Care Home & Hospital, Vancouver, Canada
"I appreciate your outstanding efficiency. I will definitely keep you in mind in the future."
L. H.
École Horizon-Jeunesse, Canada
"The Bite Resistant Arm Guards have proved to be a worthwhile investment. They offer excellent, yet discreet protection and are durable and comfortable to wear."
Theresa Edwards, Programme Team Leader
Truro & Penwith College, Cornwall, UK
"In my field of helping people with disabilities, we often face daily challenges but with the peace of mind that our staff are well protected, we are able to attend to the needs of the clients without having to worry about becoming injured. So far through daily use of PPSS Bite Resistant Arm Guards, my staff have not been injured on their arms while wearing the sleeve guards and are completely satisfied with the high quality products".
Sterling Barbosa
Valley Achievement Center, California, USA
"I am pleased to report that since we introduced PPSS Bite Resistant Arm Guards there have been no reports of bites breaking the skin (this was happening on almost a daily basis) and would certainly purchase more if deemed necessary. Previously we were using Kevlar sleeves but although these were lighter and easier to wear, they did not offer the protection that your bite resistant armguards do."
June Thompson, School Business Manager
Sherwood Park School, UK
"Having used these armguards they instil so much confidence in the user. Users now feel so much safer when working with young people that may bite and scratch. Comfortable and easy and quick to put on."
Mandy James, Enterprise Coordinator
The Bridge School Business and Enterprise College, UK
"I feel sure that the new PPSS bite resistant arm guards will be a huge successes with staff, carers, police custody officers and prison officers who are, or are likely to be working with people with a history of or potential for biting staff when in conflict situations. The care services and the judicial/custodial system has been crying out for such protection for many years."
NHS Health Care Instructor, Merseyside, UK