We checked in on the Mum from Ireland, 'G', who we supplied with protective equipment back in April of last year, and she had some wonderful feedback for the team regarding her experiences with our arm guards and body armour.
Previously, she had difficulties on a morning with her daughter 'L' who displayed challenging behaviour as a result of severe health issues, which meant she was regularly left with deep bites and significant bruising. We have had her permission to display this image.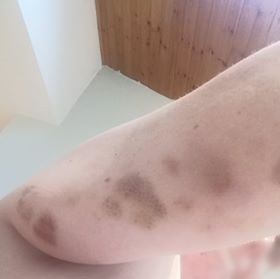 A Mum's BitePRO® Story
'Rachel from BitePRO® reached out to me to see how I was getting on with the products they very kindly sent me to help protect myself when my little woman is being aggressive. Perfect timing as we in Ireland are headed back into level five lock down in Ireland for 6 weeks and next week is midterm break.

In the early mornings, 'L' is like every teenager, she doesn't want to leave the cosy bed or want to be disturbed to get washed and dressed for school. So even with the help of medication, morning routine is always a little unpredictable. So, I wear the chest plate and arm padding, she often lashes out; but I'm not marked, bitten or bruised. I don't even feel the bite, scratch or blow as I'm so well protected.

She likes to scratch still sometimes, and the gloves are great in a meltdown but too big for getting her washed, dressed and her hair done so I was looking to get those little sleeves as they are very handy. And as a result of using the chest guard and the padding she is not getting the reaction from me when she bites and pinches as I can't feel it wearing those, so those behaviours have actually lessened by I'd say 50%.
Her team of doctors, psychiatrist, teachers and myself felt 'L' was getting some sensory feedback from biting, scratching, or pinching my skin. So, using these products has taken away that need a lot of the time. 'L' still has meltdowns due to frustration around communication or she isn't well, or having a bad day like any of us, and they can happen out of the blue.
I always leave the BitePRO® gear in the same spot and I can reach it and get it on quickly. If necessary, 'L's' sisters can grab it for me, and this has given great reassurance to them too.

They would get so upset if I were hurt. But now they know there is something to protect me and keep me safe until 'L' calms and relaxes. I honestly cannot thank the staff at BitePRO®, enough not only for helping with the equipment, but the kindness and follow up they have provided. All the bites and bruising on my chest and arms have healed up. 'L' is getting back on track after the sudden stop in everything in March and is doing well in school.

We also have a plan in place now should schools need to shut. I will be forever grateful to all the staff who helped at BitePRO®. I would highly recommend their equipment to any family who has a child with challenging behaviour. Not only does it protect you, but it also gives great peace of mind for me to know it's here.'
It is so moving to read a success story like this, and acts as a reminder of how, in these scenarios, the right protection can bring families closer. If you have a similar story of your experiences as a teacher, parent or carer of a child with challenging behaviours please do reach out to us.
We wish 'G' and 'L' and the rest of the family all the best, and hope that they can come out of lockdown closer than ever.

Want to care with confidence too? You're not alone. Shop now.
Do you have a story about caring for people with challenging behaviours and your experience with BitePRO®?
Please visit our website.
About the Author
Robert Kaiser is the Founder and CEO of .
, the world's first specialised brand of protective clothing, offering dependable scratch and bite protection for healthcare workers, education professionals, and others working with individuals displaying challenging behaviour. Robert is a widely respected expert in workplace violence and violence prevention. His written work has been published in several international industry leading publications.