Mitigating The Risk Of Human Bites
Human bites can be as dangerous as or even more dangerous than animal bites because of the large quantity and types of bacteria and viruses contained in the human mouth, hence dedicated bite resistant clothing has been designed. Human bites that break the skin can become infected, and even such wounds may not seem dangerous, but the risk of infection is high. They have been shown to transmit hepatitis B, hepatitis C, herpes simplex virus (HSV) syphilis, tuberculosis, actinomycosis, and tetanus. Evidence suggests also unlikely, but possible transmission of the human immunodeficiency virus (HIV).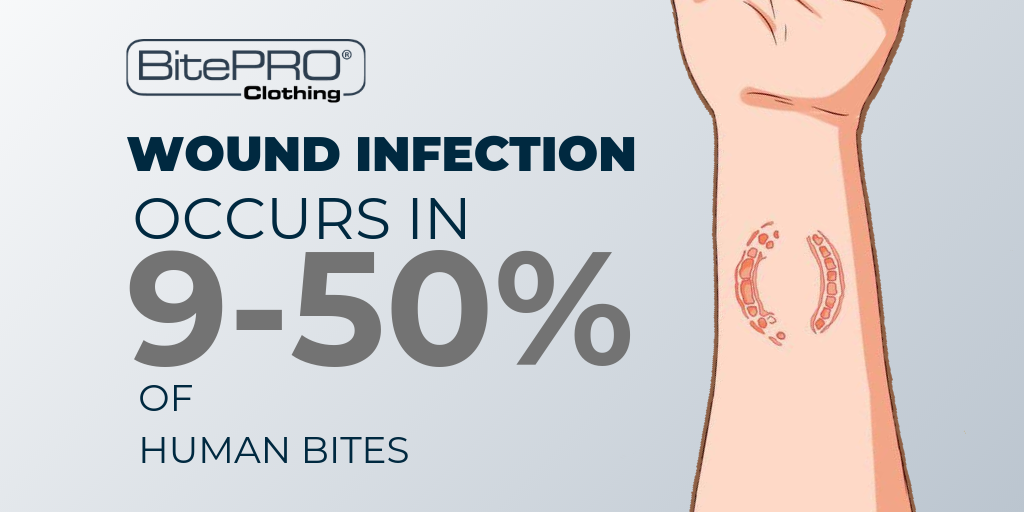 Who is at risk?
In my opinion literally all public facing professionals, who potentially have to engage with another person expressing any level of aggression (intentionally or unintentionally e.g. due to mental health issues). This includes health care workers, law enforcement and security professionals, teachers within special needs schools, taxi drivers and many others.
Most professionals within these sectors either have been bitten by another human being at some point in their career, or they know of someone who has bene bitten. This means their employer must identify such incident/injury as a potential risk, and in most countries in the civilised world that means such risk must be address, mitigated and potentially appropriate personal protective equipment or protective workwear must be issued to the worker.
Today's legal environment will require a risk assessment to be conducted, highlighting any realistic risk employees are being exposed to e.g. being bitten. The purpose of such is to very clearly identifying a) the precise risk, b) the potential liability and c) the implementation of effective mitigating measures.
Just as a simple example of the potential consequences of failing to comply with such laws… the Portland Tribune reported on 01 February 2019 that eight educational assistants are suing Portland Public Schools and several administrators for $3.6 million alleging the special needs students they were supposed to assist frequently assaulted them by biting and scratching etc. The lawsuit accused the district partly of negligence. The lawsuit claimed the district and administrators did not sufficiently protect the educational assistants or students.
We believe that BitePRO® Bite Resistant Clothing should be considered as a mitigation measure to reduce that very realistic risk faced by today's public facing professionals. Failing to do so can ultimately result in liability claims and legal action being taken against your organisation by either an injured employee or indeed an overseeing government body.
Please view the following video of Kayleigh Davis, Senior Consultant at BitePRO® offering a real practical solution:
Please feel free to comment on my article here or feel free to email us info@bite-pro.com and visit our website www.bite-pro.com