Sometimes I am being asked if bite resistant clothing (click here: www.bite-pro.com) is really 'necessary'. Are human bites really such a big problem for today's educational professionals? Can the consequence of a human bite really be so severe?
Allow me to write a little about what educational professionals from around the world tell us and what we can simply read in the news and research on the 'net'.
There was that schoolboy running around the classroom shouting when his young, female teacher tells him that if he won't sit still and do his work, he will have to finish it at lunchtime. Seconds later, furious at being told off, the child shoves the teacher to the floor. The young boy continues to lash out, punching and hitting her repeatedly before sinking his teeth deep into the flesh of her upper arm. He is just five years old.
A particularly disturbed child in a school for difficult children? No, this assault took place at an ordinary primary school in Manchester, UK.
A few years back, the attendees of the NASUWT teacher's union here in the UK were told that teachers now talk openly about their daily experiences of being bitten, and their visits to hospitals. This is most certainly the case. Even during our very basic and initial research into this subject matter we were able to identify more than 100 incidents of educational professionals being bitten by children, some of their personal stories even made it to national news.
We are fully aware of teachers working in special educational needs schools or units for pupils with severe mental and behavioural problems who were bitten so hard, so they had to be given vaccinations against infectious diseases and viruses such as Hepatitis B. Many also required immediate surgery.
Regrettably, there is still a culture in some schools, particularly where pupils have severe behavioural problems, that being assaulted is all part of the job, but I hope we all agree that no one should ever have to go to work with the expectation of being assaulted. This perception must be part of the past by now?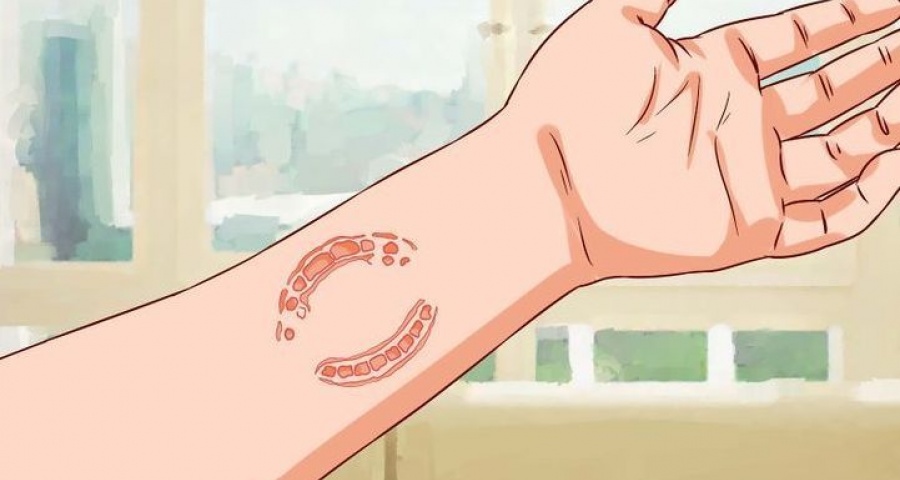 Personal Stories & News
When we recently spoke with a U.S. based Teacher, she explained that some of the children they work with are biters. She further explained they are often non verbal and it's a way to express frustration rather than aggression. At their school it is the teachers and teaching assistants that wear them predominantly and not every day. They would look for a specific behaviour or mood from the child or a head up from the family and would then wear them on specific days. Our bite resistant clothing would also be used in a "Team Teach" situation, where a child needs to be physically restrained by multiple members of staff including the admin team like her.
According to the 'Yahoo Lifestyle website (dated 27 September 2019), Brett Bigham, a teacher in the U.S. state of Oregon was being bitten so badly that he was sent to the hospital, just a few days before he was named Teacher of the Year, and only short time after he suffered other attacks by pupils.
The very same media outlet reported that another teacher in Wisconsin (USA) was kicked in the stomach. The pupil then punched another teacher in the eye during an attempt to restrain him and eventually picked up a chef's knife, threatening to stab two teachers with it.
In October 2019 the Australian Broadcasting Corporation reported about a Canberra public school worker who was repeatedly bitten by one of her students. She was injured on a weekly basis, for six months, by a child with a mental disability. She stated: ""I was bitten on the arms; I was bitten on the stomach and I was bitten on the leg. That was day one."
We understand that many assaults are the result of, for example, working with students who have complex mental challenges. However, we also know that many assaults are simple intentional acts of violence. Whatever the circumstances, more and more educators are ending up in the emergency room, and that is what matters.
The 'newToday', the 'News and Features from the National Education Association' admitted or rather stated on the 20 June 2019 that many teachers, administrators, and education support professionals (ESPs) are at risk of being bitten while at work.
Medical Information
Human bites can be as dangerous as or even more dangerous than animal bites because of the large quantity and types of bacteria and viruses contained in the human mouth. Human bites that break the skin can become infected, and even such wounds may not seem dangerous, but the risk of infection is high. They have been shown to transmit hepatitis B, hepatitis C, herpes simplex virus (HSV) syphilis, tuberculosis, actinomycosis, and tetanus. Evidence suggests also unlikely, but possible transmission of the human immunodeficiency virus (HIV).
Protection from human bites
Many educational professionals around the world are now calling for greater protection from children who bite them. They came to the understanding that human teeth breaking their skin can lead to serious injury, infections, long term trauma and require complex surgery.
Teachers retire on medical grounds, they walk away from the profession they were once extremely passionate about, because medical experts have been able to identify that they suffer from PTSD (Post Traumatic Stress Disorder), a widely discussed and publicised illness, usually associated to soldiers returning from wars, having witnessed some of the most disturbing levels of violence.
So, to answer the questions I have asked right at the beginning. BitePRO® Bite Resistant Clothing (click here: www.bite-pro.com)might not change the behaviour of violent children, or the behaviour of children diagnosed with specific mental illnesses. But there is no question about it, bite resistant clothing will reduce the level of physical pain associated to a human bite, it can and more importantly it will reduce the risk of injury and infections. It will prevent immense long-term emotional distress to teachers. It will help them to continue working within a sector they are most passionate about.
Please click on the following image and view a video featuring Kayleigh Davis, Senior Consultant at BitePRO®: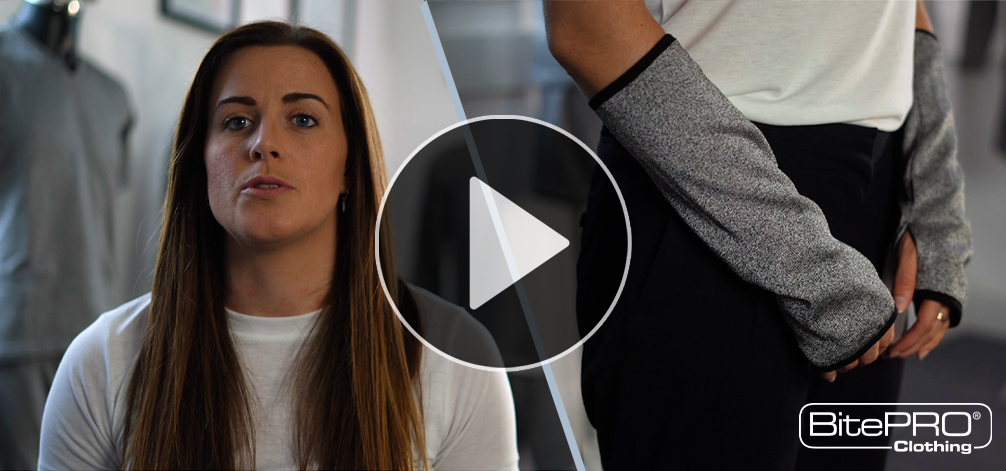 Legality & Accountability
But, allow me to also point out the legal aspects of this subject. Today's legal environment will require (especially in schools) a risk assessment to be conducted, highlighting any realistic risk employees are being exposed to e.g. being bitten by a pupil. The purpose of such is to very clearly identifying a) the precise risk, b) the potential liability and c) the implementation of effective mitigating measures. We believe that BitePRO® should be considered as one of many mitigations measures you can utilise and implement to reduce a realistic risk faced by today's educational professionals. Failing to do so can ultimately result in liability claims and legal action being taken against your organisation by either an injured employee or indeed an overseeing government body.
The Portland Tribune reported on 01 February 2019 that eight educational assistants are suing Portland Public Schools and several administrators for $3.6 million alleging the special needs students they were supposed to assist frequently assaulted them by biting and scratching etc. The lawsuit accused the district partly of negligence. The lawsuit claimed the district and administrators did not sufficiently protect the educational assistants or students.
The fact of the matter is school boards are required to provide a safe and healthy workplace: It is the law… it is not optional.
Please feel free to comment on my article here or feel free to email us info@bite-pro.com, and be assured that I am more than happy to keep our conversation strictly confidential. I would be very interested to hear from you.
Website: www.bite-pro.com
Robert Kaiser, CEO
PPSS Group / BitePRO®